SMPS 2017 CPSM Study Group
January 23, 2017 @ 3:00 pm

-

February 27, 2017 @ 4:30 pm

SMPS Pittsburgh's 2017 CPSM Study Group will kick-off on January 23, 2017 with weekly study groups covering each of the six domains and run through February 27th, giving participants a chance to prepare to take the CPSM exam.  Each session will take place at The Sextant Group, Inc. from 3:00 to 4:30 p.m.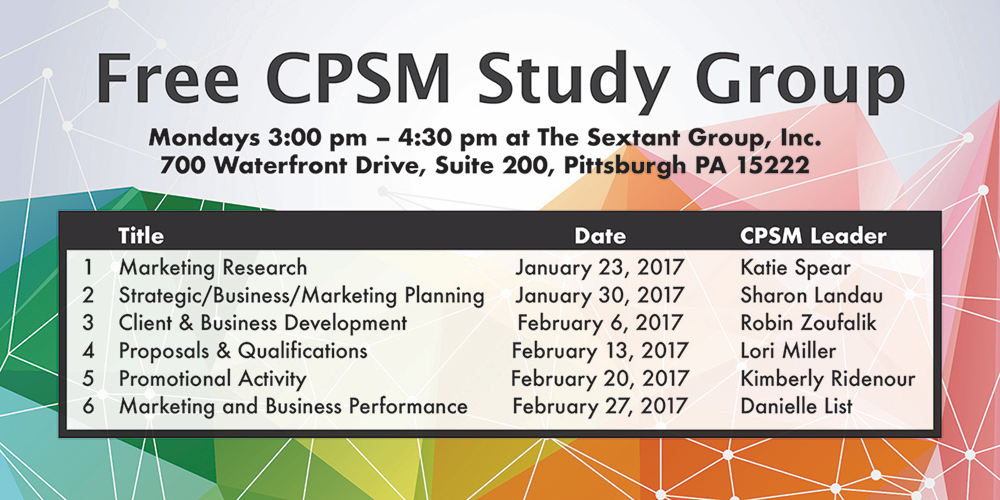 Certified Professional Services Marketer (CPSM)
Four letters that could change your career.
The CPSM Program began in 1999 and today marks a great milestone.  More than 900 individuals hold the CPSM designation, and it's the highest number in the history of the program.  Being a CPSM not only means you have the knowledge to elevate your firm, but you know how to apply that knowledge.  Unlike many other certification programs, passing the CPSM exam means you have the ability to think deeply about all six Domains of Practice for Professional Services Marketing and apply them in various situations to better your firm.

Reasons why you should become a CPSM:
Knowledge – Even if you have a marketing or communications degree, studying for the CPSM can be a great learning experience. Our industry is constantly changing and studying can help you enhance your knowledge.
Recognition –  A recent survey of CPSMs reported an increase in recognition within their firms. In fact, 35% said they receive more respect from the firm's technical staff since receiving their CPSM and almost 80% of those surveyed stated their peer recognition was higher after passing the CPSM exam. The respect and peer recognition leads to a higher confidence level that can lead to better opportunities and better work. Most firm principals in our industry have some type of licensure, be it engineering, architecture or construction related. They understand the testing process and the work it takes to become certified.  The pass rate for the CPSM is comparable to the CPA exam or Architectural Registration exam, showing the difficulty of the testing process and knowledge required.
Increase in salary and bonus – On average, CPSMs report 30% more salary and 78% more bonuses than their non-certified peers. These metrics demonstrate that CPSMs are providing value to their firms through their knowledge, strategy, and action.
This year, our SMPS Chapter is waiving the fees for the study group. Please check www.smps.org for information about CPSM and the testing itself.
For additional information or if you have any questions on the study group, please contact our Education Committee Co-Chair, Katie Spear, CPSM, at kspear@iiconusa.com.
---
This study group series is for you if you:
Have been in the industry for a while and want to have credential initials behind your name
Are ready to test your marketing skills and want to start preparing for the CPSM
Are curious about the CPSM and want to know what it takes to earn it
Don't want to test for the CPSM yet, but want to learn how to win more work for your firm
Want to sharpen your marketing skills
---
The foundation of SMPS' Certified Professional Services Marketer program is based on the Domains of Practice for Professional Service Marketers.  As a CPSM, you will gain a more balanced knowledge base and best practices across all of the 6 domains:
1. Marketing Research
2. Marketing Planning
3. Client and Business Development
4. Proposals
5. Promotional Activity
6. Management
Share this Event
The Sextant Group, Inc. 700 Waterfront Drive, Suite 200 Pittsburgh, PA 15222